Southeast Asia is heavily influenced by China's economy, has strong growth potential and demographic diversity, and is the first stop for the international development of most domestic companies.
However, differences in geographical conditions, market environment and infrastructure causes enterprises to face more complicated problems and challenges when going overseas. Among these, having a complete and efficient supply chain management system locally is one of the most critical success factor for food and catering companies expanding overseas, so it is also the first priority to be established. This requires not only the comprehensive planning by the enterprise, but also the cooperation of partners with globally integrated service capabilities and deep local domain expertise.
"How does an organisation integrate and optimize resources to ensure the safety and timeliness of logistical transportation?"
"Can different sources of data such as orders, purchases, logistics, etc. be communicated across countries, and synchronized, unified, analysed and controlled?"
"Do the software systems conform to the local market requirements and usage habits? Are they compatible with various local hardware and software, can they operate efficiently and stably?"
……
In order to help our clients focus on their core business development instead of the above problems, Crystal Link worked hard over the past two years to build its foundation. It has set up branches in Singapore and Malaysia, as well as partnerships in Indonesia, Vietnam and other ASEAN countries. By merging internationalization concepts with localised know-how, we utilized industrial best practices, and combined them to build capabilities within each country to support local as well as international clients.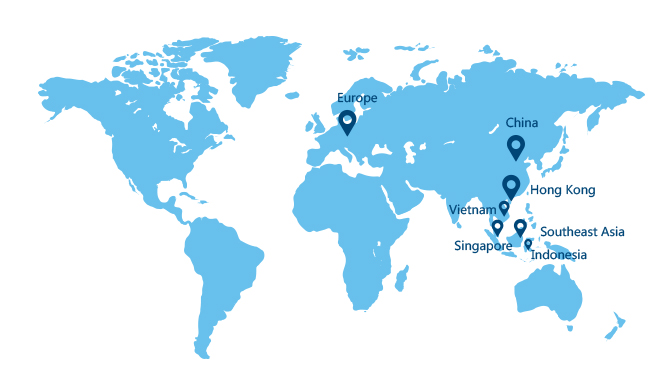 International Strategy
Adhering to the business philosophy of global integration and interconnection, Crystal Link transnationally integrated related resources in the supply chain field. Driven by technology and data, relying on rich industry operation management experience, Crystal Link is committed to building a supply chain platform for food processing, catering and new retail industries, and providing vertical industries with software capabilities, logistics operations, supply chain finance and other services. Thus, enterprises can focus on their core business, quickly and efficiently coordinate upstream and downstream services, diversify and internationalize their business.
Within the organization, Crystal Link has also set up R&D and support centres in Shanghai, Beijing, Xiamen, Guangzhou, Shenzhen, Singapore, Malaysia and other key locations, flexibly mobilizing local resources, and established an international business network.

Service Localization - not only to understand the local markets, but also to give better service levels to clients by faster response to clients' urgent needs in real time.
The Crystal Link Southeast Asia team consists of 90% local employees, and can provide customers with Chinese, English, and local language support. Among the staff, we have professionals with more than 20 years of relevant experience in technological MNCs and logistics companies.
Product localization - Better fit to localized requirements, closer interaction of data sources, easier integration to local software and hardware.
From multi-lingual support, deployment in the Microsoft Azure environment, to the use of GoogleMap, our SaaS systems have been modified to suit local enterprises, and enables smoother and more efficient information processing capabilities and easier integration with local software and hardware facilities. From ordering, to warehousing and transportation, to reconciliation and settlement of bills, the entire process of domestic and foreign data integration, and business efficiency demands of local and multinational enterprises can be properly met.
Ecological localization - Establish a good business environment and actively interconnect with local enterprises
Crystal Link focuses on open collaboration. Whether it is the construction of logistics networks, the integration of transportation resources, or the matching of hardware and software facilities, Crystal Link helps provide a smoother transition of companies in their international ventures.
The Crystal Link overseas team is happy to share its industry experience, local market experience and resources with everyone. For further communication, you can send a mail to enquiry@clt-apac.com, or call us at +65 6950 3516.