Crystal Link Technology is a subsidiary of Shanghai Hi-cold Supply Chain Information Technology Co., Ltd., was founded in July 2016. It is the first technology and data-driven platform for vertical industry internet operation and management in China. The headquarters of Crystal Link Technology is in Shanghai, and has many service teams located in most of the major cities in China (including Hong Kong). In addition, currently there are two overseas service centers, one located in Singapore and the other one in Hungary. Besides China, the service network will soon cover Southeast Asia and Europe.
Crystal Link Technology was incubated by SinoServices for two years. SinoServices is a leading information technology service enterprise in China and founded in 2007. Along the years, SinoServices has been adopting cloud computing, big data and AI advanced technologies to provide a comprehensive supply chain solution to customers. SinoServices has more than a thousand clients, most of them are from leading enterprises locally and overseas, SinoServices is also certified by CMMIL5, and ranks amongst the world's top 1000 high maturity software development enterprise.
Food safety is paramount to the national economy and people's livelihood. Thus, strong supply chain management in food sector has become essential and is a key to sustainable development of food enterprises. Crystal Link Technology is not only strong in IT technical aspect, but also has a team with years of experience in supply chain logistics management and operation. With this unique capability, Crystal Link is able to provide end-to-end supply chain solutions to F&B, food, new retail enterprises, including services from supply to demand, from technical to operation solution as a one stop solution provider in supply chain, operation and management.
After several years of development and testing, Crystal Link Technology has developed an integrated supply chain cloud platform to manage orders, inventory, transportation and billing. With this full suite of SaaS tools, digitalization of supply chain management is no longer an unattainable goal for enterprises. Furthermore, Crystal Link Technology aims to create a logistics network with multi-temperature and multi-channel services that cover China and SEA, eventually gradually to improve logistics performance and efficiency. Apart from that, based on supply chain data and logistics operation, Crystal Link Technology is able to provide value added service by connecting finance provider to SME, helping SME indirectly to overcome cash flow challenges. Crystal Link Technology has been highly recognized by the industry and many customers. As of today, it has been serving more than 500 enterprise customers, enabling customers to improve their overall supply chain management efficiency significantly.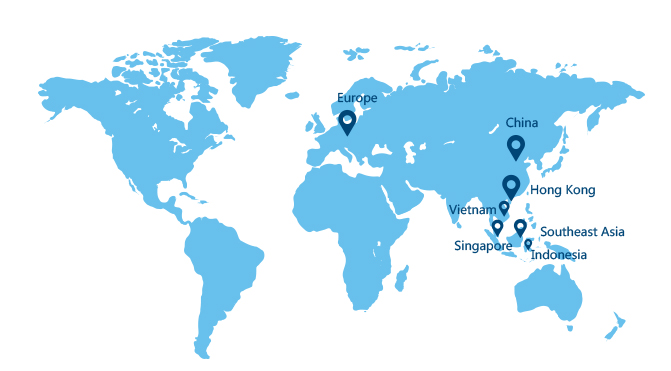 China headquarters: Shanghai
Southeast Asia Headquarters: Singapore
R & D Centre: Xiamen
Service centre: China, Hong Kong, Southeast Asia, Europe